Where is Zakopane?
Zakopane is a Polish city located in the south of Poland, almost at the border with Slovakia. The city was founded in the XVII century! At the beginning, only 43 people lived there.
The meaning of the word Zakopane is 'buried', and this makes sense because the city is located at the bottom of the Tatra Mountains, so it looks like the city is buried when you see the majestic mountains that surround it.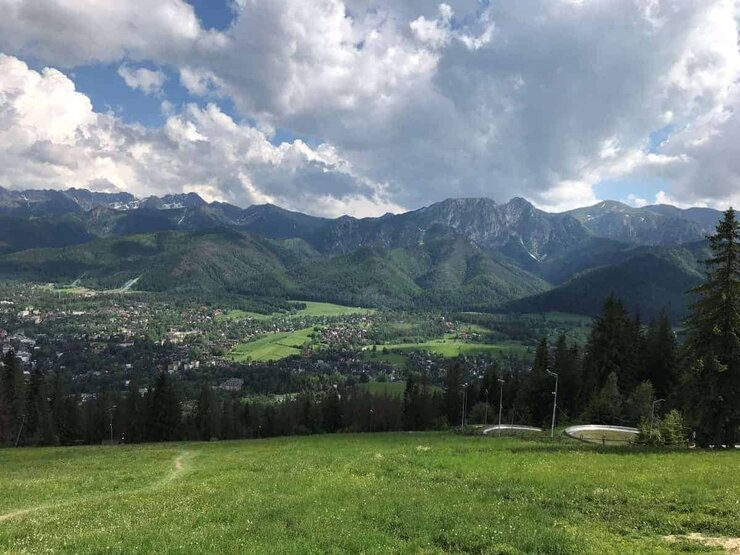 Zakopane is not a big city in terms of population, it has over 27 thousand people living there. The smallest district of Warsaw, Wesoła, has almost the same population. Zakopane is basically a city that lives from tourism.
During the year, it is one of the most visited cities in the country, and with no doubt, during winter it is the most popular city in Poland! Poles and foreigners love to go skiing and walking around the mountains of the region. That's why Zakopane is also known as the winter capital of Poland.
History of Zakopane in a Nutshell
Since its foundation, Zakopane was always been seen as a tourist spot for Poles. For example, at the end of the 18th century, Zakopane was already receiving tourists from Krakow. Also, in the past, Zakopane was an important place for mining and metallurgy.
Around 1900, Zakopane jumped from being just one small village to being a health resort, thanks mainly to the rail service that was inaugurated in the city. Many more tourists started to visit, and many more decided to live there.
People from Zakopane knew what they were doing, and they wanted to take advantage of its geographical advantage. They decided to invest a lot in the skiing industry. In 1925 they opened the first ski jump, and a few years later the first cable car and funicular of the city was inaugurated, reaching the top of one of the most famous mountains of the region called Gubałowka.
The skiing industry changed this city completely, many more people decided to moved there and more and more tourists were seen there every season.
During the II World War, Zakopane was not destroyed as other cities in Poland, like Warsaw for example. The hotels and houses in Zakopane were used by Nazis and their families to spend their vacations there. During this time, some local people decided to support refugees by helping them cross the Polish border through the mountains!
After the war and during the communism time in Poland, Zakopane was the main touristic destination for Poles during the whole year.
Nowadays, Zakopane receives more or less 3 million tourists from Poland and from abroad every year! Quite crazy right?
How to Get to Zakopane?
As I mentioned, Zakopane is located really in the south of Poland. From Warsaw, it takes you more or less 5 hours by car. The closest big city to Zakopane is Krakow, from there you are about two hours away by car.
If you don't have a car you can always go by bus or by train but probably it will take you a couple of hours more.
From Warsaw you can go there with the bus company called FlixBus, which has a lot of daily buses from Warsaw to Zakopane, the fastest bus will take you there in 7 hours. The average ticket costs around 70-85 PLN (17-20 Euros) one way.
If you want to go there by train probably it will be a little bit faster (5 hours and a half from Warsaw), but for sure it will be more expensive. One of these fast tickets will cost around 130-150 PLN (30-35 Euros) just one way!
One of the things I really hate about going to Zakopane by car or bus is that there is only one way to arrive in the city. In high seasons, or during wintertime, is there an accident or some renovations on the road….. well, you will be stuck in your car or bus for hours!
So you might be wondering: "What is the best way to go to Zakopane?" My honest answer is to go by car. It's better to gather a couple of friends and divide the costs of petrol. It might be the cheapest and fastest option.
Top 10 Things to do in Zakopane
Zakopane is not only mountains or skiing. This city has a lot to offer, so if you are wondering what to do in Zakopane? These are the top 10 things to do there!
1. Krupówki street
Let's start with one of the most emblematic and famous streets of the whole of Poland — Krupówki street. It is the central and most representative street of Zakopane..
Krupówki street is over one kilometer long, you can find shops, pubs, hotels, restaurants, and more.
Also, if you are walking through Krupówki, 2 minutes walking from there you will find the upside-down house of Zakopane, it's quite fun to go in there!
2. Go to the top of Gubałowka mountain
At the end of Krupówki street, you will be at the bottom of one of the most famous mountains of the region — Gubałowka. You have two options to reach the top: the first one is walking to the top, it will take you around 30 minutes. And the second and most comfortable is to take like a tram that will take you to the top and to the bottom for only 22 PLN (5 euros). At the top of the Gubałowka mountain, you will have the best view of Zakopane!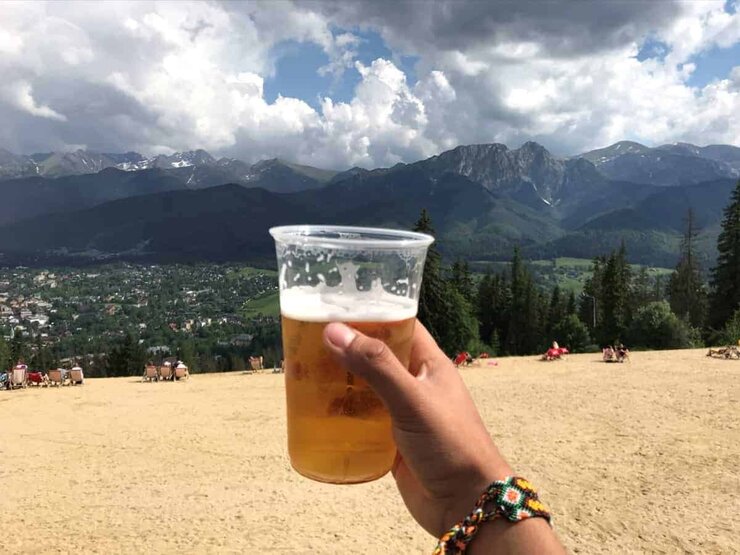 Also, you can find some restaurants and bars to enjoy a cold beer and enjoy the view. There are also some attractions for children and adults, like the slider that will take you from the top of the mountain. You will have a lot of adrenaline going in your veins!
3. Eat a piece of Oscypek
Oscypek is the most traditional cheese of the Polish mountains. For me, it's the best cheese from Poland! It is a smoked cheese that is made of sheep milk. It's quite salty.
Walking around Zakopane, you will see a lot of people selling this traditional Polish cheese. You have two options to buy them: cold, or you can have a grilled oscypek. The grilled one for me is the most delicious way to eat this cheese, you can add some jam at the top and enjoy it! It's incredibly delicious!
4. Visit Morskie Oko
This place is not in Zakopane per se, but it's super close from there, just 30 minutes by car. This place is Morskie Oko! It is also known as the Eye of Poland or The Eye of the Sea. It's a lake in the Tatra mountains.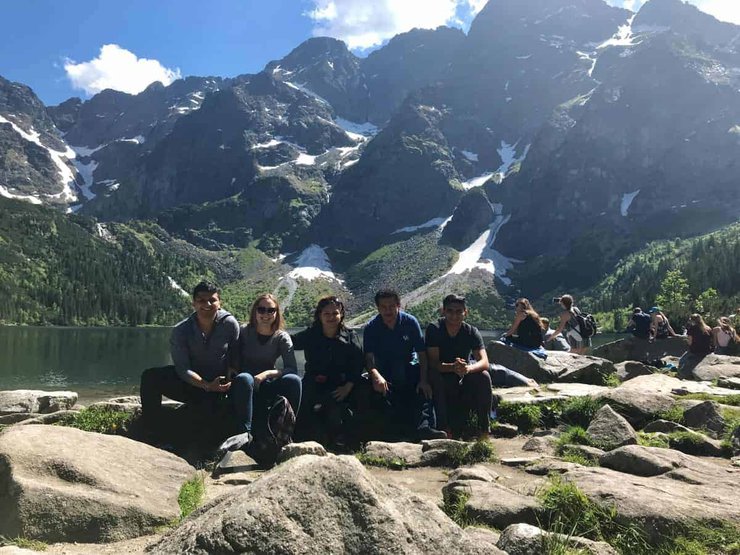 To reach this place you will have to walk around 9km from Palenica Białczańska, but guys believe me, it is totally worth it. Honestly speaking this is the most beautiful place I've ever seen in my life! The best part is that during spring and summer this place is amazing, but in winter it is also great. It looks like a movie set!
5. Take a tour with the Górale
People from the mountains are called Górale (highlanders in English), it's a group of people originally from the southern part of Poland.
One of the coolest things about Górale is that they wear amazing outfits! They are really colorful and highly decorated. Górale also speak quite differently, according to the rest of the Poles, they have a funny accent, and they even might talk entirely differently than other Poles from Warsaw for example.
In Zakopane, you can have unique tours with Górale. For a few hours you can experience how local people live, these tours are known as Kulig. These tours normally offer some attractions like sleigh rides, bonfires, traditional music from the mountains, and homemade Polish food! Definitely it's a must in Zakopane.
6. Explore Giewont Mountain
Giewont mountain might be the most famous mountain in the Tatra mountains in Poland. One of the reasons is because it looks amazing no matter where you are in Zakopane. The best place in my opinion to appreciate this mountain is from the top of Gubałowka mountain.
Giewont is also famous because it's associated with one of the most famous Polish legends — The Legend of the Sleeping Knights. The reason? The silhouette of the Tatra peaks simulates the form of a person that is sleeping.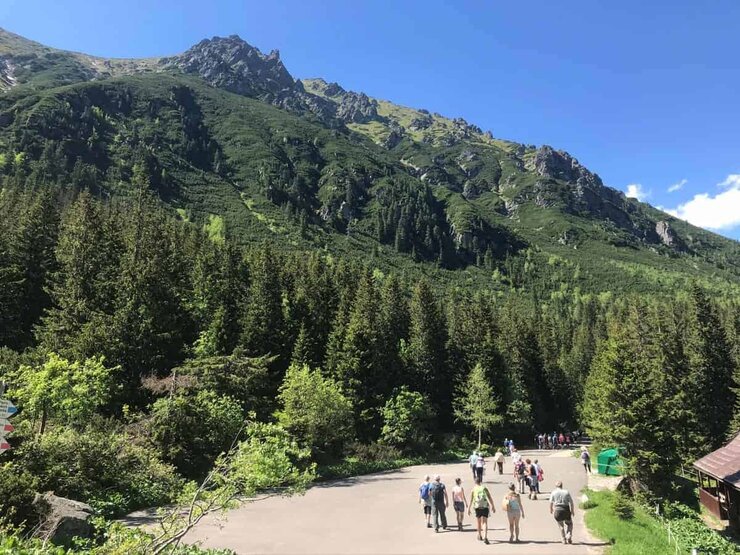 To go hiking around Giewont mountain is one of the best attractions for Poles during the whole year.
7. Visit the first church of Zakopane
Believe it or not, you can still visit the oldest church in Zakopane which was built in 1847. This church is known as the 'Old Church' (Stary Koścół), but its name is the Church of Mother of Częstochowa in Zakopane (Kościół Matki Bożej Częstochowskiej w Zakopanem).
If you are catholic you can attend mass on Sundays. If you are not catholic you can visit it anyway. Almost all the church is made of woods, and have interesting decorations.
8. Appreciate the Unique Architecture
One of the first things my Polish wife told me about Zakopane was that I would fell in love with architecture. I'm not a big fan of architecture or anything like that, but if I see a nice building or a house I know to appreciate it.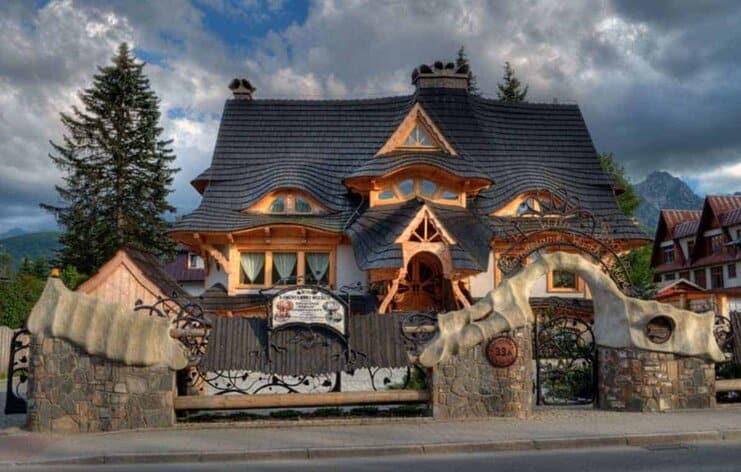 If you are going by car and you look out the window you will know when you have reached Zakopane. Most of the houses here look like from a cartoon. The houses are in their majority made from and decorated with wood. Most of the houses have the same style, which was created by the architect Stanisław Witkiewicz in the 1800s.
9. Go skiing and visit Snowlandia
As I mentioned, since the beginning of the 1900s Zakopane was the best place to go skiing in Poland, and this hasn't changed at all.
The winterland of Poland is the perfect place for Poles and foreigners who love to go skiing or snowboarding. Zakopane offers many slopes for beginners and experts. I went for the first time this winter and I really liked it!
Also, during winter, Zakopane offers a unique attraction called Snowlandia. It is a complex that is built during winter that has the biggest snow labyrinth in the world! Also, you can find a castle with hidden tunnels made completely out of ice!
10. Enjoy Nature, Nature, and More Nature!
Zakopane is the perfect place in Poland to disconnect for a while from your busiest daily life. It's a place that you can visit the whole year, it doesn't matter in which season you are going for sure you will have something amazing to see, eat and drink!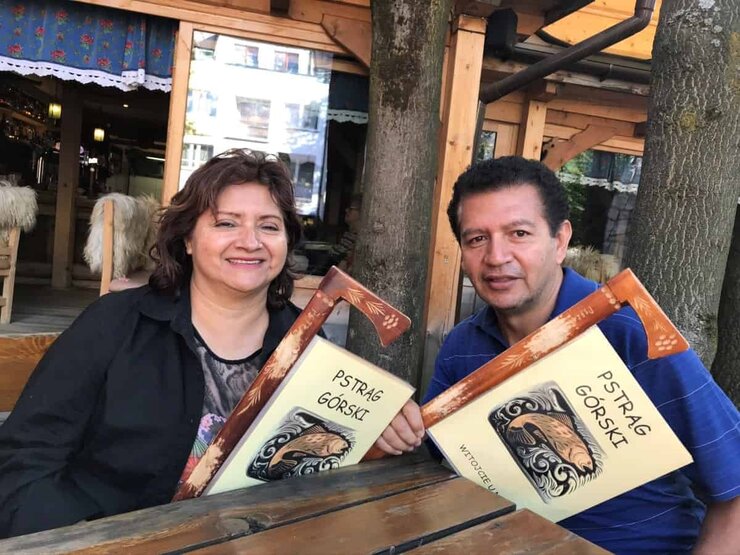 Author: Chido-Fajny/NB
Original link: https://www.chido-fajny.com
Bez kategorii
Culture